Website © Indian Peaks Miniatures, All Rights Reserved - Copy righted © Photos used with Photographers consent - All Rights Reserved by the Photographer

6X AMHA World
Grand Champion Stallion
We feel truly blessed to have this amazing once in a lifetime horse in our lives!
Indian Peaks Dare to Impress

Congratulations
Jan & Neva
on your
2019 Filly by
Dare!!
New herd supervisor arrives!

5/13/19
We are very pleased to once again sponsor the AMHA AOTE High Point awards for the 2019 European Championship Show! Best of luck to all of the exhibitors!


3/24/19
The weather was warmer this weekend, and John started playing with Dancer, Dare's first foal. We can't wait to see her fully clipped and in the show ring!
WORLD SHOW 2018 -
Dare continued his winning ways this year, placing World Grand Champion Sr. Stallion and World Grand Champion Amateur Sr. Stallion, giving him an unprecedented 6 World Grand Champion Titles during his halter show career !


We feel truly blessed to have this horse in our lives !


Indian Peaks Talkin'
Beaucoup Bucks
SHOW RECORD HIGHLIGHTS:
2018 World Reserve Grand Champion Amateur Jr. Stallion!

2018 World UNANIMOUS Champion AOTE Jr Stallions - 1

2018 World Champion AOTE JR. Stallion - 2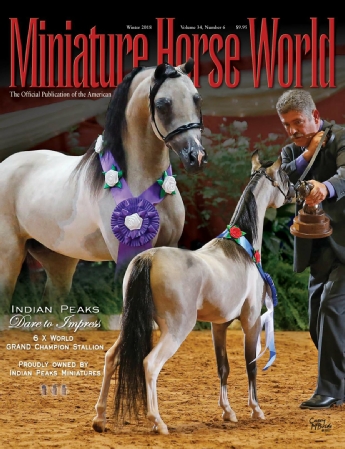 Visit his page for more photos and information.