Website © Indian Peaks Miniatures, All Rights Reserved - Copy righted © Photos used with Photographers consent - All Rights Reserved by the Photographer

2017 UNANIMOUS AMHA World Grand Champion Jr. Stallion

2017 UNANIMOUS AMHA World Grand Champion Open Halter Futurity

2017 AMHA World Grand Champion Amateur Stallion

2017 AMHA World Champion 2 Yr. Old Stallions Over 31-33"

2017 AMHA World Champion Amateur Jr. Stallions Over 30-33" - Level 2

2017 AMHA World Champion 2 Yr. Old Stallions 33" & Under Futurity

2017 Central Championship UNANIMOUS Grand Champion Jr. Stallion

2

017 Central Championship UNANIMOUS Grand Champion Amateur Stallion

2016 World Grand Champion Jr. Stallion

2016 World Reserve Grand Champion Open Futurity Champion

2016 World Champion Yearling Stallion 30-32"

2016 World Champion Yearling Stallion 30-32" Futurity

2016 Central Grand Champion Jr. Stallion

2016 Central Champion Yearling Stallion 30-32"

2016 Central Reserve Grand Champion Amateur Stallion

2016 Central Champion Amateur Jr. Stallion 30-33" Level 2

12 Time Supreme Halter Champion

Multiple Amateur Supreme Halter Champion
Indian Peaks Dare to Impress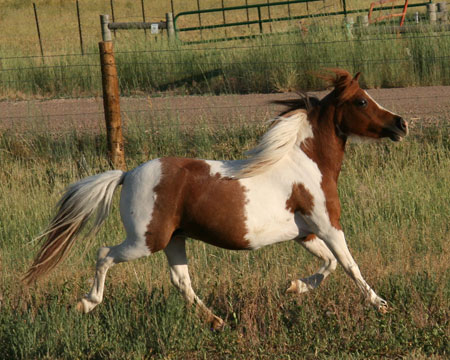 2008
AMHA/AMHA
Sorrel Pinto Bred Mare
Lucky Four Rebel-chase Really a Dandy
Read More
New herd supervisor arrives!
Indian Peaks Dare to Impress goes World Champion Yearling Stallion 30-32" shown by Mike Hlavatovic of Alliance Training and then Dare goes on to win AMHA World Grand Champion Jr. Stallion with John on the end of the lead!


Just wanted to shout out to Kevin and Tanya! We enjoyed chatting with you at the Annual Meeting. Thank you for coming and sharing your views! Best of luck this show season!


7/9/17
Dare showed his heart out today at the Central Regional Championship Show, going Grand Champion Amateur Stallion with John and Grand Champion Open Jr. Stallion with Mike Hlavatovic! What a great day! Thanks Harry Elder for the great picture!
FUN SHOW - Weld County Fair Grounds on Friday 7/21/17. Update: The show was so fun, with stick horse halter, stick horse races and the Cart and Human barrel race!